Fisherfolk asks DOJ to probe Napocor over Iloilo oil spill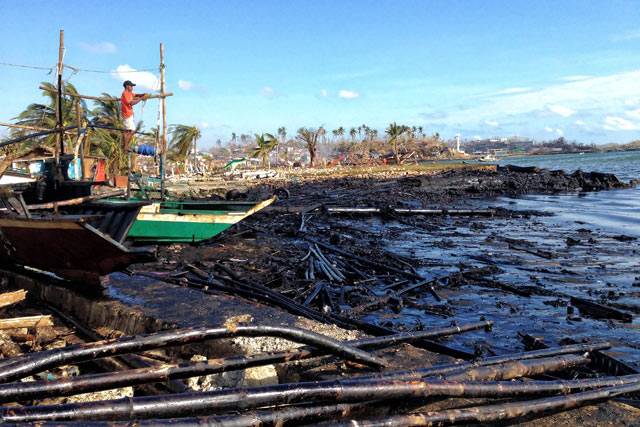 BY RAPPLER.COM
POSTED ON 12/18/2013 7:29 PM  | UPDATED 12/18/2013 9:53 PM
COVERED IN OIL. Logs and other pieces of wood covered along the shoreline of Barangay Botongon in Estancia town. File photo by Jonathan Jurilla, Typhoon Yolanda Story Hub Visayas
MANILA, Philippines – A fisherfolk organization asked the justice department on Wednesday, December 18, to investigate officials of the National Power Corporation (Napocor) over their alleged "incompetence" in dealing with the oil spill in Estancia, Iloilo.
The Pambansang Lakas ng Kilusang Mamamalakaya ng Pilipinas (Pamalakaya) hopes that a probe by the Department of Justice (DOJ) would lead to the filing of "appropriate" criminal charges against the executives of the state-run power corporation.
Napocor's power barge was washed ashore on November 8 during the onslaught of Super Typhoon Yolanda (Haiyan).
The power barge was located in Barangay Botongon in the town of Estancia. Petitioners said the bunker oil was reported to have spread up to 10 kilometers south of Botongon, to the villages of Paon and Tanza.
"Napocor was well informed 4 days before Yolanda hit the country on November 8, and there was enough time for Napocor to transfer or remove Power Barge No. 103 from the typhoon path to avoid possible oil spill incident – and this was gravely overlooked," Pamalakay said in a letter addressed toJustice Secretary Leila de Lima.
Napocor is a state-run corporation, one of the the largest electricity suppliers in the country.
In the letter, signed by Pamalakaya national vice chairmen Peter Gonzales and Salvador France, the group said the "failure of Napocor to undertake clean-up operations within the prescribed reasonable time or in accordance with the self-imposed deadline set" is tantamount to "environmental negligence," which calls for "criminal indictment" under the Clean Water Act of 2005 or RA 9275.
Difficulty in equipment deployment was previously cited as cause for the delay of the cleanup. The health department warned that air pollution in the oil spill site has reached a critical level, and that residents should be immediately moved to other areas.
The delay in cleanup, said Pamalakaya, causes "serious injury or loss of life and/or irreversible water contamination of surface, ground, coastal, and marine water."
Among the officials that Pamalakaya branded as "avant-garde failure" were: President Benigno Aquino III, Department of Energy Secretary Jericho Petilla, Department of Environment and Natural Resources (DENR) Secretary Ramon Paje, Napocor president and chief operating officer Ma. Gladys Sta. Rita, Napocor vice presidents Lorna Dy and Katambayan Celino, senior department manager Manuel Luis Plofino, and Napocor managers Romulado Beltran Sr and Emmanuel Umali. – Buena Bernal/Rappler.com
 Source: Rappler 
http://www.rappler.com/nation/46189-fisherfolk-doj-probe-napocor-iloilo-oil-spill
Please follow and like us: